Baking Without Butter is My Specialty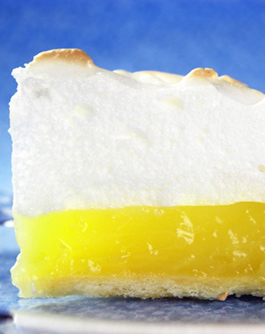 I love sweets and I'm clearly not alone. So what should we do, those people who love cookies and cakes and pies but who also want to be as healthy as possible? Well, we just have to find ways to enjoy desserts but make them as healthy as we can. That means using less saturated fat, less sugar, and more whole grains. That's where I come in. I've created so many easy recipes with less sugar and without butter, that baking without butter has become my specialty.
Wait 'til you see how many fabulous desserts without butter you can make. And you won't be giving up any flavor or goodness with my healthy desserts. My chocolate cake is not only made without butter, it's made without eggs too. And it's moist and delicious. And guess who can make a lemon meringue pie without butter? Me! I use an easy oil crust, luscious lemon curd filling and a fluffy meringue on top. Awesome!
Cheesecake without butter? Yes.
Pumpkin pie without butter? Yes again.
Marble cake without butter? Ditto.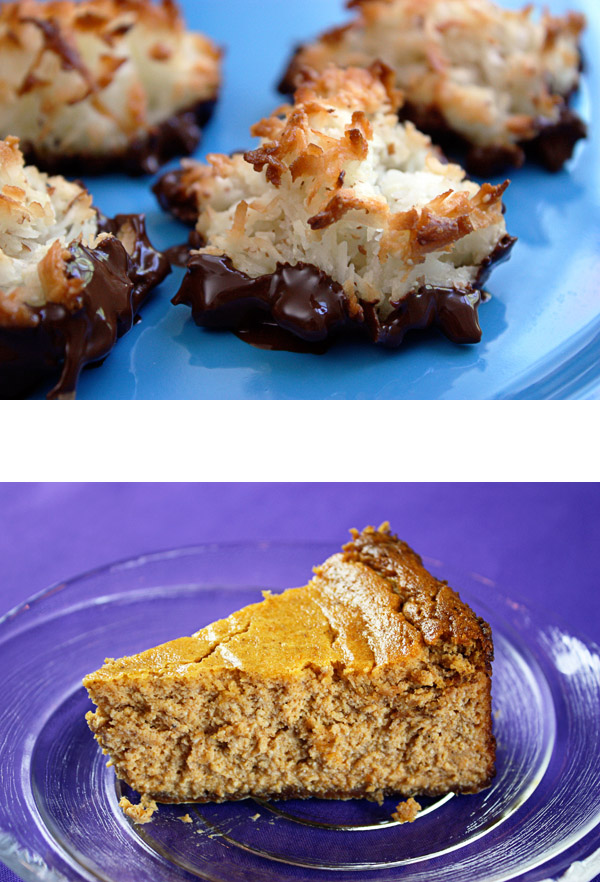 I make coffee cakes, carrot cake, muffins and cupcakes, all without butter… and cookies. My giant breakfast cookies are addicting and they're made with 100% whole grains and olive oil. The same goes for my oatmeal chocolate chip cookies. They are also 100% whole grain cookies made without butter and they make a yummy, healthy dessert.
Two of the most popular recipes on my website (and very popular videos on youtube) are the homemade cinnamon rolls and lemon brownies, both made using oil. I'm here to show you how to make cinnamon rolls without butter and they are amazing – soft and gooey and easy to make. The lemon brownies may be the easiest recipe you can make. Everything goes in one bowl, stir it up and bake. Rave reviews.
My goal is to make desserts that are a little healthier and a little easier. Having been a working woman all my life, I needed what most other people need: healthy recipes that are quick and easy, including desserts you can feel good about serving your family.
Even when I was working long hours hosting and working on the Jenny Jones Show, I still made time to cook my own meals. My healthy and stamina depended on it. These days, I feel unbelievably fortunate that I can spend all my time doing what I love. I created Jenny Can Cook as a place to share my own healthy recipes with everyone from experienced cooks to novices in the kitchen. My healthy lifestyle is what motivates me to create healthy foods and meals and especially healthy dessert recipes because I always have dessert, even after breakfast. That's when I have my giant breakfast cookies or breakfast brownies, both delicious, and both made without butter.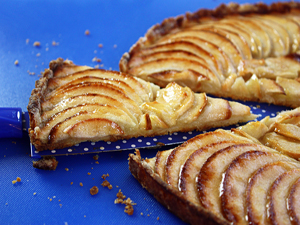 I'm not a health food nut – I'm just doing the best I can to create healthy recipes that I feel good about eating. But they have to taste great so I basically work on reducing the bad stuff and increasing the good stuff. For example, with dinner recipes, I focus on reducing unhealthy fats, especially butter and incorporating lots of vegetables. Even when making dinner, I avoid butter and cook with olive oil. With dessert recipes my focus is to reduce saturated fat and sugar, and add fiber where it works. There are some instances, like angel food cake, where whole wheat flour does not work but most of my cookies are made with whole grains and less sugar than most.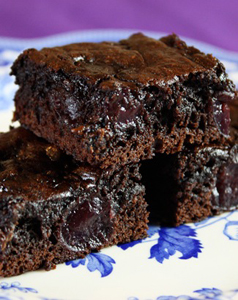 Keeping it simple is also important. Any time I can make a recipe easier to make, I do it. So you'll see I have lots of easy recipes where everything goes into one bowl like my easy chocolate brownies without butter. Yes, you can make delicious, fudgey brownies with no butter! And I'm always working on keeping it simple because when I can make a simple, easy recipe it's usually the one people use the most. I always crave something sweet after every meal so there's always something sweet to eat in this house. Oftentimes it's just one of my high-fiber cookies, like my everyday cookies, or my chocolate almond clusters made with heart-healthy dark chocolate and toasted almonds. Other times, it's a fancy cake like my double layer lemon coconut cake made entirely without butter, including the frosting.
Baking without butter is a priority for me considering my family history of high cholesterol so you will find a strong focus on healthy foods and meals and desserts without butter. It's my goal to be able to enjoy sweets and still maintain good health.
My own personal favorite thing to eat has to be Polish food. That's my heritage and I grew up on Cabbage Rolls (Gołąbki) and Pierogi. My sister and I learned to cook from our dad and we even had our own traditional Polish costumes. People seem to enjoy my healthy Polish recipes, especially my poppy seed roll (Polish Makowiec), another fabulous dessert that I make without butter. Makowiec is really a sweet bread and it's delicious served with a cup of tea. I'm surprised how many Polish people visit my site and even leave comments in Polish. I love it!
Speaking of comments, I so appreciate all the wonderful comments everyone posts about my recipes. I never expected that and it lets me know that my efforts are making a difference. The satisfaction I get just knowing that others appreciate my healthy recipes and are cooking healthy meals and desserts at home is all the reward I need. I will never sell anything on my website. My only goal is to motivate more people to cook at home, making good nutrition and healthy eating a priority.
You don't have to give up your favorite desserts - just change the way you make them. Maybe some day soon, instead of saying, "Aren't you Jenny Jones, the talk show host?" they will be saying, "Aren't you Jenny Jones, the healthy home cook? I love your recipes!"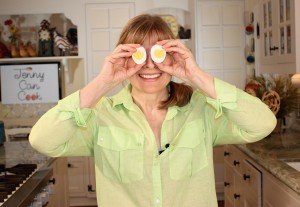 I strive to make my recipes as simple as possible and I'm rewarded when even novice cooks write to say they have never baked before but tried my recipe and it was a success. Baking is fun for me and I always add a bit of humor to my cooking videos. If I can make you smile and then you try one of my recipes, it's a double win for me… bringing you some fun and some healthy food, too. I must say I was never expecting my recipes to be so popular. It's the best feeling in the world to know that my healthy recipes are making a difference.

— Jenny Jones